9th Generation Intel® Core™ Desktop Processor Comparisons1
CORE i9
CORE i7
CORE i5
Maximum Processor Frequency (GHz)
Up to 5.0
Up to 4.9
Up to 4.6
Number of Processor Cores/Threads
8/16
8/8
6/6
Intel® Turbo Boost Technology 2.0
Yes
Yes
Yes
Intel® Hyper-Threading Technology (Intel® HT Technology)
Yes
No
No
Intel® Smart Cache Size (MB)
16
12
9
Memory Type Support
DDR4-2666
DDR4-2666
DDR4-2666
Number of Memory Channels
2
2
2
Intel® UHD Graphics
630
630
630
Graphics Dynamic Frequency (MHz)
Up to 1200
Up to 1200
Up to 1200
Intel® Quick Sync Video
Yes
Yes
Yes
Processor Core/Graphics/Memory Overclocking2
Yes
(with select SKUs)
Yes
(with select SKUs)
Yes
(with select SKUs)
Intel® Optane™ Memory Support
Yes
Yes
Yes
Intel® Virtualization Technology (Intel® VT)
Yes
Yes
Yes
Intel® AES-NI
Yes
Yes
Yes
Intel® TSX
Yes
Yes
Yes
Intel® AVX24
Yes
Yes
Yes
Intel® SGX
Yes
Yes
Yes
Intel® BIOS Guard
Yes
Yes
Yes
Intel® Boot Guard
Yes
Yes
Yes
Intel® OS Guard
Yes
Yes
Yes
Intel® Identity Protection Technology (Intel® IPT)
Yes
Yes
Yes
Features and Performance
Make Your Computer an Entertainment Center
Get an amazing entertainment hub—stream 4K UHD videos, power virtual reality, and play the most demanding games. With 4x more pixels on screen than traditional HD, you can enjoy sharp, lifelike visuals, complex shading, and fast frame rates—all with virtually no stuttering, buffering, or lags. And be ready for revolutionary immersive experiences yet to come.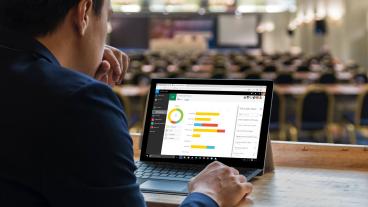 Get Unprecedented Power and Responsiveness
Now everyday computer tasks can happen faster. Edit photos and videos seamlessly. Move between programs and windows quickly. Multitask easily. Better still, all that performance comes with up to 10 hours of battery life4 3, so you can take your computer wherever you go without worrying about cords and plug points.
Intel Gigabit WiFi
At 12x the speed of a 1x1 802.11 b/g/n typically found in 5 year old PCs, our latest Intel® Wireless-AC 2X2 with 160MHz channels delivers Gigabit WiFi speeds. Experience smoother gaming and 4K UHD video streaming, faster file transfers and backups, and two antennas for reliable connections throughout your home.
Multiple Voice Services
Simplify your life with more natural interactions with multiple voice services that help you search the web, control the lights and temperature in your home, play music and even shopping with the sound of voice whether at home or on the go.