AMD has taken the wraps off its
2019 mobility line-up
. The new processor range consists of three families; 2nd Gen AMD Ryzen 3000 Series APUs, AMD Athlon 300 Series APUs, and optimized 7th Gen AMD A-Series processors. Each product family has a different class of laptops in its crosshairs.
The new AMD Ryzen 3000 Series mobile processors are the pick of the bunch and will provide "best-in-class performance," in both ultrathin and gaming laptops, reckons AMD. These 12nm chips pack up to 4C/8T, boosting as fast as 4.0GHz, accompanied by Vega graphics with up to 10 cores boosting up to 1.4GHz. Most are 15W parts but a couple of top performers are 35W.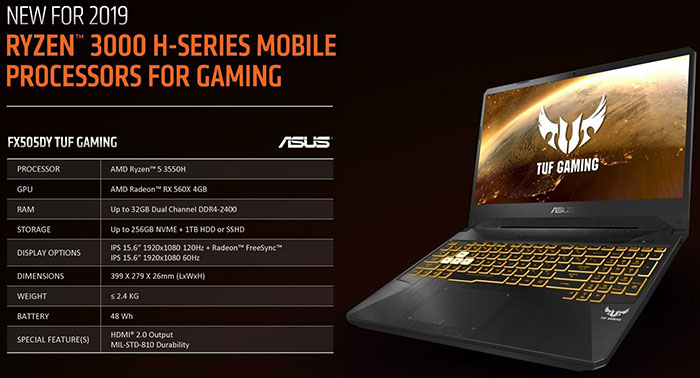 AMD provides some 'real world' figures for its top 15W processor, the AMD Ryzen 7 3700U. In testing AMD says it "can edit media up to 29 per cent faster than the Intel Core i7-8550U." Meanwhile, these new Ryzen 3000 Series APUs, can provide up to 10 hours of battery life, and include features that enable wake on voice, modern standby, smooth PC gaming, and 4K HDR Streaming. More specs and test comparison data is included in the press release's footnotes.
AMD Ryzen 3000 specs table
Product Model
Cores/
Threads
TDP
Boost/Base Freq.
Radeon Graphics
GPU Cores
Max GPU Freq.
L2+L3 Cache
AMD Ryzen 7 3750H
4C/8T
35W
4.0/2.3 GHz
Vega
10
1400 MHz
6MB
AMD Ryzen 7 3700U
4C/8T
15W
4.0/2.3 GHz
Vega
10
1400 MHz
6MB
AMD Ryzen 5 3550H
4C/8T
35W
3.7/2.1 GHz
Vega
8
1200 MHz
6MB
AMD Ryzen 5 3500U
4C/8T
15W
3.7/2.1 GHz
Vega
8
1200 MHz
6MB
AMD Ryzen 3 3300U
4C/4T
15W
3.5/2.1 GHz
Vega
6
1200 MHz
6MB
AMD Ryzen 3 3200U
2C/4T
15W
3.5/2.6 GHz
Vega
3
1200 MHz
5MB
AMD Athlon 300U
2C/4T
15W
3.3/2.4 GHz
Vega
3
1000 MHz
5MB
AMD says that the first laptops featuring the above processors will be available very soon. In subsequent months of 2019 we will see even more examples, from the likes of Acer, Asus, Dell, HP, Huawei, Lenovo, and Samsung.
Previously there have been user complaints about the rate of updates of graphics drivers for AMD mobile processors. Starting this quarter, AMD plans to provide regular/frequent Radeon Software Adrenalin updates for all Ryzen Processors with Radeon Vega graphics via AMD.com - game ready drivers etc.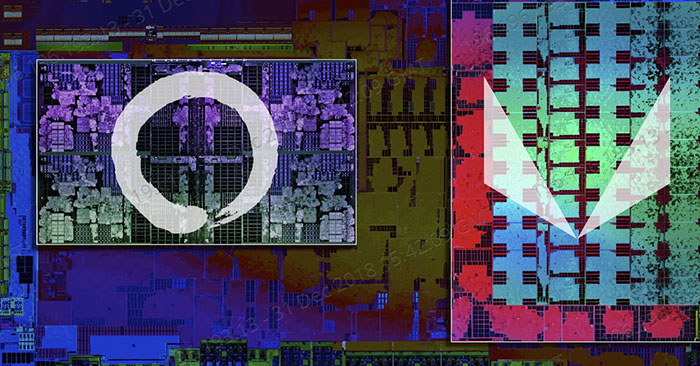 In other mobile processor news, AMD announced two 7th Gen AMD A-Series processors; the AMD A4-9120C, and the AMD A6-9220C. These 6W, 2C/2T processors are based upon older architectures but still pack in Radeon graphics with 3 cores (192 shaders). The faster AMD A6-9220C is claimed to be "up to 23 per cent faster web browsing and up to 24 per cent faster web application performance than the Intel Pentium N4200 and Celeron N3350, respectively." Furthermore it nearly 75 per cent faster in office productivity, up to 42 per cent faster at photo editing, and up to 43 per cent faster at web gaming than those Intel alternatives, according to AMD's internal testing.
Product Model
Cores/
Threads
TDP
Boost/Base Freq.
Radeon Graphics
GPU Cores/Shaders
Max GPU Freq.
L2 Cache
AMD A6-9220C
2C/2T
6W
2.7/1.8 GHz
R5 Series
3 / 192
(GCN 1.2)
720 MHz
1MB
AMD A4-9120C
2C/2T
6W
2.4/1.6 GHz
R4 Series
3 / 192
(GCN 1.2)
600 MHz
1MB